STAINLESS STEEL ICE BANK SILOS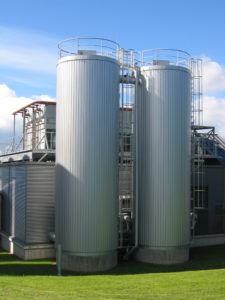 Ice bank silos are the celebrated result of our own R&D. A growing number of dairies, ice cream factories and other food and beverage companies have chosen to improve their product quality with our stainless steel ice bank silos.
The ice water produced in our ice bank silos complies with the extremely high hygiene requirements of the food and beverage industry.
Among the companies that have chosen our ice bank silos are:
Valio, Finland
Nestlé, Spain
Dos Pinos, Costa Rica
Morinaga, Japan
Mehsana dairy, India

Tankki's ice bank silos are a next generation solution for ice water production. The silos take up significantly less space than traditional ice water basins.
We have already produced and delivered more than 150 ice water silos around the world, and the feedback from users has been incredibly positive and encouraging. In addition to the Nordic countries, we've shipped our ice bank silos also to Italy, Germany, Slovenia and Russia.
Interested to find out more? Get in touch!
Antti Rantala, CEO
tel. +358 40 561 3270
e-mail antti.rantala(at)tankki.fi

Tankki Ltd
Oikotie 2
FI-63700 ÄHTÄRI
FINLAND
tel. +358-(0)6-510 1111