FOOD AND DAIRY INDUSTRIES
We have long experience in designing and manufacturing stainless steel tanks for the dairy and food industries:
process tanks
silos
CIP tanks
other food containers
other food machinery, equipment and maintenance

We also manufacture mechanical devices for dairy, meat and bakery industries, where the requirements for hygiene and cleanability are very high.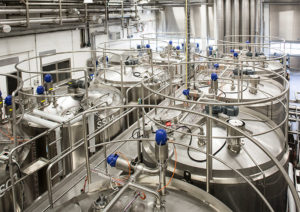 Tankki is a well-known brand in the food production industry. We have been one of the industry's trusted suppliers for decades, we are familiar with the processes and constantly update our own expertise and incorporate the latest and most advanced technologies.
In the food industry, the requirements for tank hygiene are high. Our approach is clear: Tankki's job is to help you produce the best possible products. We will provide you with the highest quality solutions for every situation.
We invest in design and production quality, develop our processes carefully and ensure all our projects and services run smoothly.
It's always a pleasure working with us.
Want to know more? Get in touch!
Tel
+358 6 510 1111
E-mail
tankki(at)tankki.fi

Tankki Ltd
Oikotie 2
FI-63700 ÄHTÄRI
FINLAND
tel. +358-(0)6-510 1111