CHEMICAL INDUSTRY AND BIOCHEMISTRY
In recent years, we have successfully carried out various extensive projects for the chemistry and biotechnology industries. We are actively seeking partnerships with companies in the biofuels sector, the chemical industry and in the bio-energy industries.
We understand the strict surface and aseptic properties required by the chemical and biochemical industry. We have the expertise and experience needed to meet these demands. If necessary, we can also equip the tanks with instruments and control logic. We use Siemens S7-1200 logic in the controls.
We also supply inerting systems for flammable liquid tanks. Inerting system can prevent the product from ingniting and improve operational safety. For some products, inerting can also improve the shelf life of the product, such as with oil.
We manufacture columns for various refining processes in the chemical industry, the length of which ranges from a few meters up to 60 meters and the diameter can be up to six meters. We make columns from several austenitic materials up to Hastelloy. If necessary, we can make the insulation of the device at our production facilities, which speeds up installation at the customer's site. 
 We have made various reactors for industry from laboratory scale to large industrial reactors. Based on the customer's initial data, we manufacture various mixer solutions for reactors and make flow modelling for them.
Examples of our range of chemical and biochemical products:
storage tanks
storage silos
fermentor tanks
columns, resin columns, ion exchange columns
vacuum chambers

granulate silos (pellet silos)
research equipments
granulate silos
chemical tanks
inerting systems for flammable liquid tanks

we also manufacture tanks and other equipments for clean rooms
Our recent satisfied clients include:
Genencor International Europa Ltd, Finland
Rintekno / Neste Jacobs, Finland
Kemira Chemie S.A., France
Roal Ltd, Finland
Altia, Finland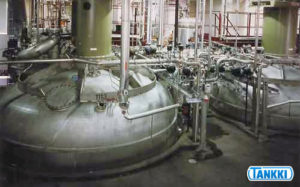 In addition to keeping our industrial expertise up to date, we work hard to keep our processes efficient and apply the latest know-how within our own organisation. We want to maintain a culture of innovation in both design and production.
We keep to the principles of responsible procurement and screen our suppliers carefully. We would be happy to tell you about our material sourcing in more detail – please ask more!
A PROJECT WE CAN BE PROUD OF
Over the years, we have found that early involvement will lead to the best achievements and results. The earlier you get in touch at the start of a new project, the more you will benefit from our special expertise.
We strive for strong, comprehensive partnership: for us it is important that each stage of the project succeeds with the best possible results. We complete the required documentation meticulously and are happy to give our visitors a tour of our modern production facility located in Ähtäri, Finland.
Interested to find out more? Get in touch!
Tel.
+358 6 510 1111
E-mail
tankki(at)tankki.fi

Tankki Ltd
Oikotie 2
FI-63700 ÄHTÄRI
FINLAND
tel. +358-(0)6-510 1111