We manufacture corrosion-resistant, hygienic and easy to clean tanks for the paper industry's demands and demanding environments.
process tanks
latex tanks
chemical tanks
columns
coating kitchens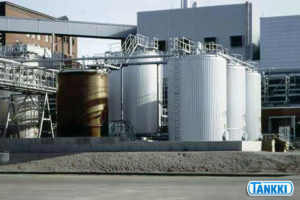 Our modern production facility in Ähtäri manufactures tanks that range up to 7 meters in diameter and meet international standards.
We work with various global paper industry companies, both in Finland and internationally.
For example these companies have benefited from our expertise:
Stora Enso, Finland
Noviant CMC, Finland
Dow, Finland
Kamyr AB, Sweden

We also design tanks made of special materials and tanks with heating and cooling jackets.
Strong insight? Yes please!
We manage our entire manufacturing cycle closely and take full responsibility for our projects. We offer you smooth partnership and we will keep you up to date on the progress of your project at all stages.
Interested to find out more? Get in touch!
Tel.
+358 6 510 1111
E-mail
tankki(at)tankki.fi

Tankki Ltd
Oikotie 2
FI-63700 ÄHTÄRI
FINLAND
tel. +358-(0)6-510 1111