STAINLESS STEEL TANKS FOR THE PHARMACEUTICAL INDUSTRY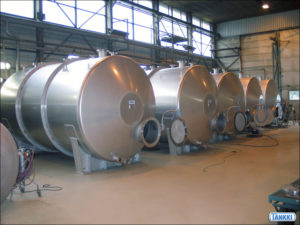 Tankki manufactures pharmaceutical industry tanks and equipment with extremely high-quality finish and surface quality. Surface roughness (Ra) of 0.2 microns is achieved by mechanical grinding.
Pharmaceutical tanks are designed and manufactured under strict requirements and regulations. All surfaces in accordance are finished to comply with the demanding standards of the industry, either with mechanical grinding or electrolytic polishing.
Examples of our range of pharmaceutical products:
custom designed substance tanks
WFI and PW tanks
mobile tanks clients needs
heating, cooling and mixing equipment
other accessories
pressurefilters, nutsche filters
If necessary, we can also equip the tanks with instruments and control logic. We use Siemens S7-1200 logic in the controls.
Our recent satisfied clients include
Orion Ltd, Finland
Amersham, Sweden
GE Healthcare, Sweden
Leiras, Finland
AstraZeneca, Sweden
Santen, Finland
In the last 10 years, Tankki has delivered nearly 200 tanks for pharmaceutical uses, mainly in the Nordic countries.
Interested to find out more? Get in touch!
Tel.
+358 6 510 1111
E-mail
tankki(at)tankki.fi

Tankki Ltd
Oikotie 2
FI-63700 ÄHTÄRI
FINLAND
tel. +358-(0)6-510 1111