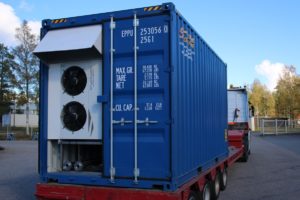 We have developed a brand new product; a mini ice bank silo. It is made especially for smaller dairies, ice cream factors and other food and beverage companies. It is made with high-quality materials and components located inside the container. This makes it easy to move and to place in small spaces. Our mini ice bank silo has a cooling capacity of up to 95 kW. The operation of silo is automated and our unique ice thickness measurement sensor has been built in silo to monitor essential parameters such as ice thickness.
Mini ice bank silo is an efficient cold energy reservoir, balancing the varying energy consumption of the production process.  The use of the silo can be controlled to operate according to the price of electricity, avoiding the most expensive hours in electricity production.
Interested to find out more? Get in touch!

We have good and informative presentations/animations of our silo and we can share them with your technical team via skype to show you the function of our silo and benefits.
Antti Rantala, CEO
tel. +358 40 561 3270
e-mail antti.rantala(at)tankki.fi

Tankki Ltd
Oikotie 2
FI-63700 ÄHTÄRI
FINLAND
tel. +358-(0)6-510 1111